Brief History of the Village
Stevington is an ancient "Domesday" village.  It has a rich history.  The Village, situated between the Roman highways of Ermine Street and Watling Street, was nevertheless off the beaten track and we have no evidence that a legionary ever set foot here.
With the Germanic invasions of the ninth Century, Stevington became part of the kingdom of the Middle Angles. In pre-Conquest England it was under the rule of the powerful kingdom of Mercia which dominated the Midlands until the advance of the Kingdom of Wessex under Alfred the Great and his immediate descendants.
The Danish invasions of the ninth century led to the occupation of much of northeastern England north of the Great Ouse. Stevington was a frontier town on the edge of the Danelaw and remained such until Aethelred recovered Bedford from the Danes in 915. The Anglo-Saxon tower of the church probably dates from a time soon after the reconquest.

The great Domesday survey of 1086 recorded Stevingon (Stiuentone) as one of the richest parishes in the County. It had the potential for 24 ploughs compared with only seven and a half in nearby Carlton, and a preConquest value of £30 which no other village of its acreage in the County approached.

In the early Middle Ages the Lordship of Stevingon was held from the time of the Conquest by the Counts of Boulogne, important tenants in chief of the Norman kings. Later, it passed to the aristocratic families of de Quency, Wake, Holland and Stanley and, finally, to the influential local family of the Alstons. The Lordship ceased to have legal effect in 1926.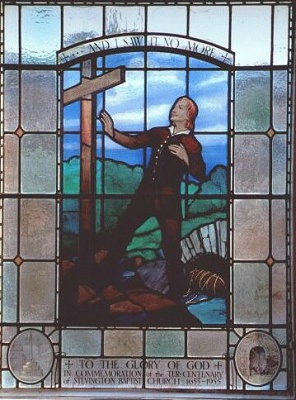 Window Stevington Baptist Meeting.
Photograph by Roger Day